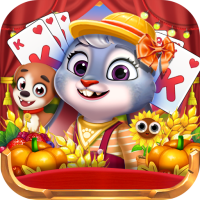 Download APK TriPeaks Solitaire Latest Version
TriPeaks Solitaire is a classic card game that is easy to learn and incredibly addictive. In this mobile game, your goal is to clear the board of cards by finding and selecting cards that are one rank higher or lower than the open card at the bottom of the screen.

With beautiful graphics and smooth gameplay, TriPeaks Solitaire offers hours of fun and challenge for players of all skill levels. You can earn stars and coins for completing levels and use them to unlock new card designs and backgrounds.

The game also features daily challenges that offer unique and exciting gameplay experiences, as well as a variety of power-ups and boosters that can help you clear the board and earn high scores. And with the ability to play offline, you can take TriPeaks Solitaire with you wherever you go and enjoy this classic card game anytime, anywhere.
More
Packet Name:
solitaire.bunny.rabbit.card.tripeaks
TriPeaks Solitaire Install APK