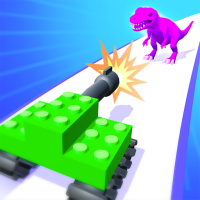 Download APK Toy Rumble 3D Latest Version
| Developer: | Latest Version: | Update Date: |
| --- | --- | --- |
| Dual Cat . | 1.5.1 | 21/09/2022 |
Do you still have a child's soul? The one that made your toys alive and create incredible adventures. If so, Toy Rumble 3D is a perfect fit for all grown-ups.

At the head of a tank made of building bricks, take on the terrible dangers of your room. Show off who the leader is by destroying the evil toys of this whimsical universe. Collect bricks and build the largest and most powerful tank in your toy box.

In Toy Rumble 3D, the more building parts you have, the more powerful your machine will be to destroy everything in its path. But be careful. Many traps will try to stop you. Any hit could become fatal. However, the more coins you collect, the more powerful your shots will be. Some obstacles can only be overcome by shooting them with enough strike.

Our game works like a "Runner" type game with action. This way, during your games, you will be asked to collect coins to buy new skins from your toy. It's up to you to take the risk of getting as much as you can. At the end of the level, you will face formidable opponents. If you are sufficiently prepared, have no fear. The reward will be even greater. But it will be necessary to beat them for this, otherwise you will be forced to continue your fight on the following levels.

Toy Rumble 3D, like all our games, is totally free and does not need to buy to win. Our skins are all available via the money you earn in the game.

Our game exists thanks to advertisements. They accompany your progress in the game and for some increase your gem gain when you watch them. We offer a paid version without ads accessible from the game that comes with a lot of gems to compensate for multipliers that will sometimes be absent.
More
What's new
Improved user experience
Packet Name:
io.shenron.tru
Toy Rumble 3D Install APK