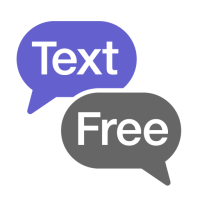 Download APK Text Free: Call & Text Now Latest Version
TextFree is the 2nd phone number app for free texting and free calling app right now. It gives you free text plus a real US phone number so you can text anyone, even if they don't have the app right now. You can text now with features such as free SMS messaging, group messaging, free MMS picture messaging, international texting & calling, voicemail and more—all for free.

☎️ CUSTOM NUMBER SELECTOR

Unlike Text Me, Text Now, Text Plus, or other apps, TextFree lets you choose your area code and search memorable phone numbers like, "(555) 414-SARA," simple sequences like "(555) 500-2525," or combinations that are, "JUST4U."

? UNLIMITED TEXT & PICTURE MESSAGING

Text now with unlimited SMS and MMS picture messages for free.

? FREE CALLING

App-to-App calling and any incoming calls are always free. Outbound calling minutes are easy to earn or super cheap to buy. Say, "Hola!" because calls to Mexico are now supported as well.

? UNLIMITED MINUTES

Enjoy unlimited calling minutes, no ads, reserved number, and more with TextFree Plus.

#️⃣ SECOND PHONE NUMBER

Having a real 2nd line means you can call your grandma's landline, order a pizza, and text now to anyone with a cellphone. It also means free MMS and SMS will work with all your friends.

? ADDED PRIVACY

Protect your privacy by using TextFree as a 2nd number for dating, craigslist, online forms, and more.

?‍?‍?‍? GROUP CHATTING

TextFree is perfect for free group text plus MMS with all your friends. You can create groups, leave groups, add participants and let everyone be part of the conversation with real SMS messages (or free MMS).

? TURN ANY DEVICE INTO A PHONE

No text plus calling service with a carrier? Don't need a second phone number? No Problem. TextFree can turn your desktop, tablet or other Android devices into a phone that can send text plus phone call for free. Free texting on all these devices.

?THE ORIGINAL

Don't settle for apps like textPlus, TextMe, Talkatone, and TextNow when TextFree is the original and best free texting app and 2nd phone number app available.

⚖️ LEGAL

© 2020 Pinger, Inc. All rights reserved. The TextFree name, associated trademarks, and logos are trademarks of Pinger, Inc. or related entities.
More
What's new
Every update helps make Text Free a better place to chat—and this release is no different. Get the latest version for the best original Text Free Ultra experience.

If you're enjoying your free phone number, please consider leaving us a rating or review.
Packet Name:
com.pinger.textfree
Text Free: Call & Text Now Install APK