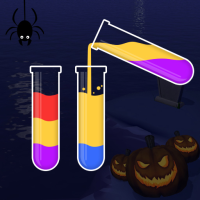 Download APK Sort Puzzle Latest Version
| Developer: | Latest Version: | Update Date: |
| --- | --- | --- |
| XGame Global . | 0.0.11 | 07/01/2022 |
Are you finding some funny games for relaxing? Do you like game 3D about sweetie parties or making drinks? Do you want to be the best bartender ever? Then Water sort is the best water puzzle game for you. This drinking game will satisfy your passion for making drinks and creativity.

🥤 Water sort: Pour Color will make you be the owner and bartender of a drink shop, you will serve customers as fast and exact as you can. Firstly, you will have some beakers that fill color liquid. It is a material for dispensing beverages. The juice drink was spilled together and the sorting was very messy. You have to fill up the cup by filling them together. Remember that the glasses of water will be allowed when it has only one watercolor. The essence of water sorting is color sorting. This task makes you have to be careful and intelligent to mix a sweet drink. Tap glass to choose the water cup you want and tap another glass for pouring water into it. When you make color fills in the glass, it means you are making done a juice drink.

It is really easy!! Everything you have to do is pour and pour. Just try to not get stuck!! If you are really stuck - don't worry, you can restart the level at any time. Let's make a lot of money to expand your business!!

This water puzzle game 3D will make you relax and feel great.

😎 HOW TO PLAY
~~~~~~~~~~~~~~~~~~
Tap any glass to pour water into another glass.
The rule is that you can only pour the water if it is linked to the same color and there's enough space on the glass.

😎 FEATURES
~~~~~~~~~~~~~~~~~~
One finger to control.
Multiple unique and interesting levels
Free to download & Easy TO PLAY.
NO penalties & time limits.

Are you confident that you can pass every level and become the best bartender? Download the game to try and have fun now!
More
Packet Name:
com.water.puzzle.sort3d