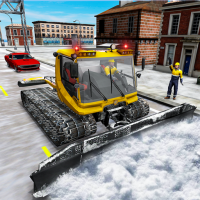 Download APK Snow Plow Winter City Rescue Latest Version
Welcome to snow plow winter city rescue and start your journey in snow excavator simulator gameplay. Use multiple snow cranes to clear the land sliding and snow rocks blocking the roads. Drive heavy snow excavator crane to crush the frozen ice and use dump truck to clear highway roads in winter city.

Play challenging and fun snow excavator simulator 2021 and sit behind steering wheels of giant construction cranes like excavator, driller, cutter and more. To become a real excavator driver you have to learn how to handle these gigantic construction machines in snow excavator games. Play snow excavator simulator games this winter season and help people stuck in snow storm. Remove snow from roads and highways in this snow road cleaner game. Play challenging construction games with snow excavator gameplay and complete fun slow plow missions.

To clear city traffic flow you have to clear blockage of roads in this snow excavator simulator game for 2021. Sit behind heavy road construction cranes and start your journey in this snow excavator games 2022. Use snow plow crane to clear the road for city cars, ambulance and public transportation. Use snow cutter, dump truck and other road construction machinery for road cleaner purpose. You have to drive heavy machinery and park them perfect in this snow crane games. Break the frozen rocks and crush them into small pieces then drive snow excavator and clear the highway for people in NY city.

People are stuck in home, offices and airport help them to meet their family and friends by clearing snow roads in this amazing snow plow winter city rescue game 2021. If you are fan of bridge construction games or bulldozer game and enjoy making roads. Then you will love playing this road cleaner snow plow excavator game for sure. Help American truck driver games to transport frozen ice blocks out of winter city play this real snow excavator games.

Play snow crane games with super smooth controls but challenging snow excavator games missions. Become a part of the snowstorm rescue excavator team in this amazing snow plowing grand truck driving simulator game. Start snow dump trucking games on off road adventure in this extreme hill snowplow truck game and clean highway in this city sweeper games.

Forget all offroad euro truck driver games and cargo transportation games and play this snow plow rescue game for 2021.
More
What's new
Minor Bug Fixes
Packet Name:
com.fts.snow.blower.winter.city.truck.parking.simulator.game
Snow Plow Winter City Rescue Install APK