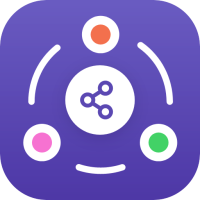 Download APK Share files: Send, Transfer Latest Version
Share files: Send, file Transfer is a magnificent file-sharing app that assist user to transfer data from one smart phone to another. The file sender app follows cross platform that share and transfer files between android phones through via cloud.

Share files: Send, file Transfer is resplendent file transfer application in which user can send and acquired all sort of files at any place and anywhere. Now transfer data for example videos, photos, documents, music files, applications, contacts, APK, call logs, calendar etc. With share apps user can send files with an amazing speed that is 200 times faster than any transfer tech. File sharing application can transfer all the data with complete protection of privacy. There isn't need to dismay about data loss during file sharing as it safeguards all your vital data. Now share and transfer gigantic files. Data transfer app can move all files without size restrictions. User got freedom to transfer photos of their loved one with family and friends with any kind of connectivity lost.

Share files: Send, file Transfer is an amazing sharing app that gives user an opportunity to transfer my data without Internet connection, that means file send anywhere. Now send multiple files through this handy file share tool and file sharing is now possible with just click of a button. All share with high speed & transfer photo to another smartphone device. Data transfer application support multiple languages. File transfer is easy anywhere you want just open app select desirable option and send files. No needs to be anxious about mobile data transfer interruption in case of any error because it don't start from the beginning rather than resume automatically.
More
Packet Name:
com.sharefiles.sendfiles.filetransfer.shareall
Android Version:
4.1 and up
Share files: Send, Transfer Version History
Share files: Send, Transfer Install APK