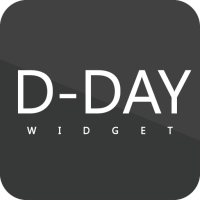 Download APK D-day Latest Version
| Developer: | Latest Version: | Update Date: |
| --- | --- | --- |
| 한울 LAB . | 1.16 | 14/06/2016 |
This is a simple app calculates and shows the D-Day widget.
You can add a schedule to the Add button.
You can easily add a schedule by Add button.
The widget will be updated automatically
(The widget may not be working, depending on the model and Android version)
(I'm Korean, and not good at English so have help by google translate :)
thank you for use!)

☞ d-day calculate.
☞ can use 4x1 widget()

※ This app does not collect an absolute privacy!!
More
What's new
[ver 1.16]
☞Add 4x4 widget.
☞Fix update interval 3 hours.
Packet Name:
com.kiristudio.jh.d_day
Android Version:
4.0.3 and up