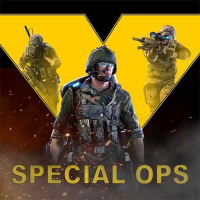 Download APK Call Of FPS Modern Warfare OPS Latest Version
| Developer: | Latest Version: | Update Date: |
| --- | --- | --- |
| NT-Studios . | 1.9 | 13/02/2022 |
Get ready to shoot & kill in this thrilling free FPS 3D action packed Call Of Last Battle incredible game. This is a special ops mission of evil soldier assassination that will let you experience & use battle survival & gun shooting skills in intense & eventful war environment. You are the best army shooter of the country so be a military commando army soldier super hero who has to hold aim & target in this ultimate silent killer special ops shooting mission with special operations forces and modern warfare.
Call Of Last Battle is a first person shooting game. The major power of the world is gathering to fight against world terror but in modern world war terrorist merge as a single group of evil soldier. So world lender seceded to initiate a super mission of war against these soldiers with the help of special operations forces.
These evil soldiers occupied the large area of northern urban town; you have to clear this as a gorilla warrior, play as a silent player, eliminate all soldiers and take bake the area.
Enjoy thrill, action, combat, skirmish war game, and real fighting action game. Be a real commando in last commando II action game and complete all the given missions strategically. Save yourself from enemies and shoot to kill all brutal assassins. The digital radar will help you to see the enemies' location and will guide you where you have to go. Gear up to play the ultimate world war as amazing war commando shooting hero hunting terrorists and keep shooting as free global war duty.
Humanity falls ----- terrorist rises. You're one of the modern soldiers, a Hero ----- the action fighter of the wastelands. You explore the Last Territories, the aberration Zone that mysteriously survived after the war. Here, man is more dangerous than guns; here you can be killed easily by mine. Somewhere in the Territories, your last girl-friend, a natural born aberration expert, has killed. The war falls in your hands.
Follow the gaming rules if you want to be victorious in this fight between powerful armies in winter season of modern warfare. It has amazing 3D graphics for fighting and artillery choices to choose M1911, MPS, AK47, M4, short-gun, sniper rifle and many more. Numerous missions and assignments will be assigned and special operations forces will help tou. This game has smooth controls that are easy to handle for precise shooting.
Step into the boots of world war hero and fight in the battleground. Lead the forces squad & make your way possible to get the exact location of terrorist enemies. In this critical shooting environment, you need to take down all deadliest rival by using modern armory and modern warfare. Play in this free online 3D game as a brave army soldier & make sure you survive the mission to get to the next level and special operations forces are watching your progress. Follow the gaming rules and even use tactics to improve your skills as an ultimate long range shooter to win these battles. Do not let your opponent's team of terrorists dodge you by modern warfare. The wild noises havoc battleground is waiting for army men, brothers in arms for modern strike online, standing in this us marine sniper Rules of Modern Battleground winter game is all set to seize intense worldwar battle of ambush revolution while fighting against enemy sniper enemy military convoy. As skilled sniper rifle man soldier agent & the lone survivor, use assault skills in 1911 war2 to shootout & eradicate rivals with silencer pistols in battleground provided by special operations forces.

Game Survival Features:
• Modern Equipment & up to date Weapons for Shooting.
• Different Gameplay Missions.
• Smooth & Easy Controls.
• Realistic Environment & Sounds.
• High quality 3D Graphics & Mode.
More
What's new
New environments added
New zombie mode added
New sniper added
Added story based missions.
Performance improvements
Minor bug fixes
Added multiple weapons
Optimized scenes
We are still working on further improvements😎

Don't forget give 5 star to encourage us, more update on the way!
Packet Name:
com.ninetytwo.calloflastbattlesniperfpsww2
Android Version:
4.4 and up
Call Of FPS Modern Warfare OPS Version History
Call Of FPS Modern Warfare OPS Install APK