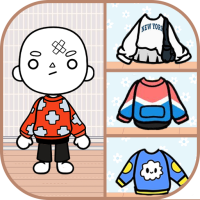 Download APK Toca dress up game Latest Version
| Developer: | Latest Version: | Update Date: |
| --- | --- | --- |
| GH'S . | 1.0 | 09/12/2022 |
This game is for you if you enjoy dressing up TOCA Boca dolls and creating lovely princesses or super TICA girls.

For all kinds of dress-up and fashion parties, develop your skills as a super fashion stylist and designer. Choose the newest fashion accessories, create makeup looks, and dress up females with expensive clothing.

You're ready to surprise everyone with your incredible talent for Toca Boca fashion design. With these super-fun DIY dress-up projects, get creative. Use your creativity to transform your everyday attire into gorgeous, trendy Toca Boca dress-up costumes! Got a drab, outdated blouse? Use some fashion tricks to reshape, style, paint, and transform it into a trendy new tank top! Participate in selfie competitions while wearing your trendy new Toca Boca outfits and fashion creations. Run a fashion designer YouTube channel and upload videos of your Toca Boca clothes. Requests for clothing can be made by your followers.

Create beautiful outfits using fresh, free clothing pieces and become a fashion stylist! You can assist a young fashionable model in these Toca Boca girl dress up games in selecting the perfect outfit for a unique romantic occasion. Choose the right stickers to make a background after clothing your first TOCA princess. TOCA Boca Dolls contain scenes from schools, homes, and other places. It's time to shine in the TOCA Boca dress-up game.

HOW TO PLAY:

- Click to makeover with your finger
- Put on suitable makeup
- Dress up in various outfits and accessories.

FEATURES :

- Dress up your adorable kawaii dolls with a variety of outfits, accessories, speech bubbles, and letters!
- A wide selection of clothing in many styles, from casual to glam, for true shopaholics
For whatever fashionista lady you select, you can choose from a variety of bags, spectacles, and accessories.
- Enjoy offline girls' style games.
- Create your own versions of international superstar girls or cute dolls from Boca!
- Decorates beautiful selfies in the TOCA Club game!
- More than 350 dress-up accessories and hairstyles!
- Displaying six models at once to achieve coordinated looks
- Pick your favorite hair color from 20 options for a stylish look!

In this makeup game for females, shock everyone with your amazing fashion styling abilities by giving them a gorgeous makeover. Try stunning clothing and hairstyles to make the queen appear exclusive in the salon. Give her a DIY eye-catching hairstyle and a stunning princess outfit to give her the glamorous image of a supermodel. Display your true makeup skills in these games for girls. You are a fashion expert; dress your girl up in stunning bridal dress-up and makeover games. Give her a supermodel appearance with your fashion sense. By choosing a gorgeous fashion style in the girls' INDIAN wedding dress-up games, you can improve your sense of style and makeup gaming abilities.

With our free dress up games for girls, you can fantasize about becoming a well-known supermodel who leads the charts of current fashion publications. Numerous dresses, accessories, and other items are available. Create an unique appearance for the TOCA girls squad, select a fancy hairstyle, and put together a found a unique of well-fitting clothing to show off your fashion sense.

Here, you can create your own character and create TOCA characters and avatars. Visit and take a look!
More
Packet Name:
com.GHS.TocaDressUp
Toca dress up game Install APK