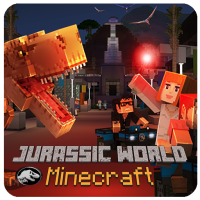 Download APK Jurassic Minecraft World MCPE Latest Version
This Apps allowed you to download & install the best and most popular dinosaurs mod for Minecraft PE called Jurassic Craft Add-on. This addon adds many cool dinosaurs, creators, and a car to your Minecraft Bedrock or Pocket Edition game. Each dinosaur contain a unique set of behaviors such as some dinosaurs you can tame and ride them, but some may want to kill and eat you!

How does it work?
1. Install this App
2. Go to the last page on this app
3. Install the Map by clicking the INSTALL AND OPEN button. These new file types automatically launch Minecraft and installing the Map. You will see an importing message at the top. Wait until the import is message complete.

Below is a list of the Jurassic World dinosaur included in this Jurassic Craft addon:
# Raptors
# Carnotaurus
# Indoraptor
# T-Rex
# Indominus Rex
# Compsognathus
# Ludodactylus
# Mosasaurus
# Tylosauros
# Brachiosaurus
# Dilophosaurus
# Oviraptor
# Spinosaurus
# Gallimimus
# Dodo
# Ankylosaurus
# Triceratops
# Goats
# Baculites
# Jeeps
# and many more small dinosaurs

App Features:
# Easy automatic installer, everything was done in one single click!
# MCPE maps, mods and addons screenshots, how to play, and other details.
# Work offline, no need to connect to any Minecraft servers.
# 100% FREE!

Please note that a Minecraft game should be installed on your smartphone or tablet to make this Jurassic Craft dinosaurs mod work.

Are you ready to enjoy the new experience of MCPE game? DOWNLAOD NOW!

DISCLAIMER: THIS APP IS NOT AN OFFICIAL MINECRAFT PRODUCT, APPROVED BY OR ASSOCIATED WITH MOJANG.
More
Packet Name:
com.djavllc.jurassicworld.maps.addon.mcpe.minecraft
Jurassic Minecraft World MCPE Install APK