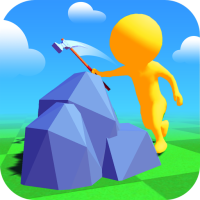 Download APK Craft Mining - 3D Miner Game Latest Version
If you own an island with very rich mineral resources, what would you do? Now you can start!

- Construction base
Build a magnificent castle on the island as your home, which will be your sign as the master of this island.

- Mining ore
Take action, whether it's doing it yourself or building a professional mining farm. Discover the rich resources on this island and you will become the richest person in the world!

- Buy land
If you have money, you can do whatever you want. Use money to expand your island, and your island empire will grow bigger and bigger.

- Looking for treasure
Gold, diamonds, gems, all kinds of rare ores, explore the island carefully, it will bring you unexpected surprises.

Bring it on! Become the richest mineral king in the world!
More
What's new
1. Optimized the overall game experience
2. Optimized the art performance
3. Fix bugs
Packet Name:
com.craft.mining.island
Craft Mining - 3D Miner Game Install APK